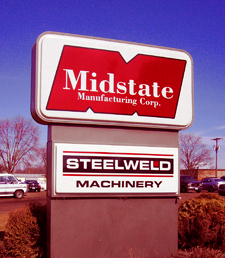 Thank you for your interest in Midstate Manufacturing Company. Customer satisfaction and quality begin  with the qualified staff and work force. Customer Service and Quality Control  teams work closely with skilled employees to assure customer requirements are  met.
Midstate utilizes the most  modern technology and manufacturing equipment available to provide our customers  with quality products, on time delivery and competitive pricing.
Midstate supplies a diverse  range of customers across the United States and globally involved in  engine  and industrial product  manufacturing, foundry, agriculture, machine repair, off-highway equipment,  food processing, marine, and power generation with parts  which meet their specifications and standards.
Since Midstate opened its doors in  1977, it has invested millions  of  dollars to maintain a modern, efficient, 150,000 square foot facility. Midstate's ongoing, companywide  modernization plan continues to improve processes while reducing overall  costs. The success of this plan result in reduced manufacturing process time,  higher quality, reduced in-process inventory, and increased return on  investment.
Modern technologies  allow the production of superior quality products at competitive costs, while  maintaining the flexibility to respond to customer needs in a rapidly changing  marketplace. The use of integrated manufacturing software assists with managing  our business from quoting to shipping. The use bar coding allows real time  tracking of operations, scheduling and inventories both finished goods and raw  materials. Midstate's Web based and EDI  communication further enhance our customer support services.